---
NEXYAD Global Onboard Road Safety Plateform for your Products & Solutions : telematics, ADAS, Autonomous Driving
| | | | | | |
| --- | --- | --- | --- | --- | --- |
| Car | Motorcycle | Truck | Bus | Autonomous Shuttle | Tramway (and railway) |
---
Our technology predicts potential accident before emergency situation occurs. It is then possible to cancel conditions that lead to accident much before it happens; We call it anticipation. Applicable to alerting driver with proactive telematics, modern cockpit hmi development, intelligent acc that works for urban areas, countryside road, and highway, and autonomous vehicle that "knows how to drive not to be surprised by road difficulties". This is how it works:
Customers hardware :
Smartphone
Standalone hardware device
Dashcam
Chip
Embedded computer (cockpit applications, dynamics control applications)
Risk stats data sended to cloud servers

Local sensors :
GPS, vehicle speed, accel, camera, radar, lidar, …
Long distance risk factors detection :
digital MAP + map matching + E horizon
data streams & V2X (weather,
accident, traffic, …)


Click on product for more information

Onboard Driving Risk Assessment in real time
---
Already Deployed by Fleets

Global Risk Management

Reduce accident rate by 20% at low cost (social road safety impact)
Reduce costs of operations by 20% : save days out of work, cost of repair and medical care
Reduce insurance premium
Improve driver coaching : alerts during driving, after trip coaching
Record real risk data stats validated by major insurance companies

Usage Based Insurance (UBI)

Reduce accident rate by 20% at low cost (social road safety impact)
Reduce number of claims (less accidents)
Reduce costs of claims (less severe injuries and fatalities)
Record contextualized risk profiles and usage profiles for you data scientists
Digitalize your relationship and communication with policy holders

Already Deployed by Insurers

Already under integration for Car Manufacturers

Advanced Cockpit HMI

Trigger alerts to driver with risk value
Modulate advanced HMI solutions (sound, light, haptic) with risk situation
Bring anticipation to driver and improve comfort
Improve safety

ADAS

Pilot intelligent ACC with speed value that keeps driving risk under a max
accepted value
Bring anticipation to vehicle and improve compfort
Improve safety
Reduce total cost of ownership
Record risk profiles to communicate with motor insurance companies

Autonomous Driving

Make Autonomous Driving system « aware » of the driving risk it is taking
Make Autonomous Vehicle adaptive to risk and then adaptive to unknown situations (go from level 3 to level 5)
Improve comfort and safety
Record real risk profiles and usage profile to show insurers they can cop with your self-driving vehicle
Modulate aggresiveness of self-driving vehicle to let it drive with human drivers
---
IP STACK OF NEXYAD
Working together in the NEXYAD Global Road SafetyPlatform
SafetyNex
(data fusion, decision)
SafetyNex takes a digital map, Accel, GPS and computes driving risk, onboard, in real time, at each moment
Addition optional inputs : outputs of VisiNex, RoadNex, ObstaNex ,
but also outputs of every perception sensors and algorithms from competitors : Mobileye, Radar, Lidar, V2X data streams (weather, accident, traffic, etc),…

RoadNex
(detection, computer vision)
RoadNex takes an image of the road scene and detects
what Elon Musk calls "drivable surface", size and location

VisiNex
(detection, computer vision)
VisiNex takes an image and measures visibility criteria in every area of interest and gives reasons of lacks of visibility (fog, rain, snow, sand, darkness, dust on the lens of camera, …)

ObstaNex
(detection, computer vision)
ObstaNex takes an image and detects objects: cars, trucks, 2 wheels, new mobiles, pedestrians, … and their location on the road.
---
NEXYAD'S SOLUTION:
HOW IS IT DIFFERENT FROM
USUAL TELEMATICS SOLUTIONS ?

NEXYAD Global Road Safety Platform integrates relevant DATA recording for telematicsAND alerts driver in due course, like ADAS (*) usually do, reducing accident rate by 20%

NOTE: To assess risk, obviously, it is needed to know HOW the vehicle is driven( speed, accelerations, …) and WHERE (on a disused airport? In front of a school? Approaching intersection? Etc). This is done ONBOARD with NEXYAD technology, no raw data sent to distant computers, only the result: driving risk is recorded. Compliant with data privacy.
---
NEXYAD'S SOLUTION:
HOW IS IT DIFFERENT FROM
USUAL ADAS (*) SOLUTIONS ?

NEXYAD Global Road Safety Platform aims and helps to keep driving behaviour in the GREEN zone

(*) ADAS = Advanced Driver Assistance Systems

Note: Driving risk and criticality assessments should not be confused as shown on figure above
---
Example of recordable data for telematics (fleet risk management and usage based insurance) and for connected vehicles new business models.
USAGE DESCRIPTION DATA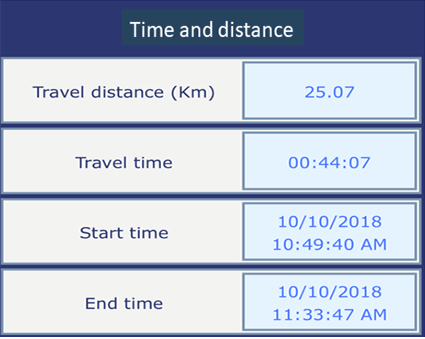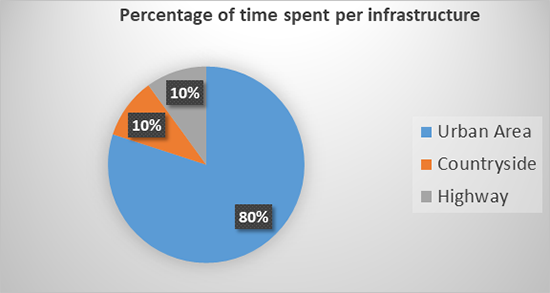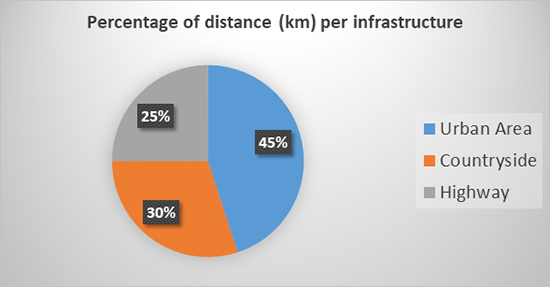 DRIVING RISK DESCRIPTION DATA : RISK PROFILES
Risk value is assessed in due course 20 times per second and can vary between 0 and 100. At the end of every trip you have access to risk statistics (risk profiles)

If you cancel thee 0-10 slot (vehicle takes quite zero risk), you can see that MOST OF THE TIME (20% of time), this driver takes a driving risk between 50 and 60. It means that this driver thinks that
he or she can cope with this risk. It is a measurement of self-confidence. If there is no alert, it is a good thing that driver is confident. If there are alerts (high risk), it means that this driver cannot
actually cope with this level of risk: the driver is OVER SELF-CONFIDENT. Risk slot 90_100 is the alert zone. It has been calibrated to match with 95% of accidents. Cautious driver should not have
many alerts.
From this risk profile, our technology automatically extracts easy to understand results: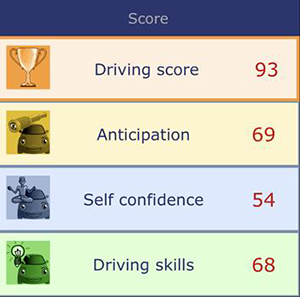 First value is the SAFE DRIVING SCORE: it should be near 100% for a safe driver.
Second value is ANTICIPATION = ability not to trigger alerts.
Third value is SELF-CONFIDENCE (see explanation above)
Fourth value is DRIVING SKILLS = ability to take your risk always the same way
CONTEXTUAL RISK ANALYSIS FOR DRIVER'S COACHING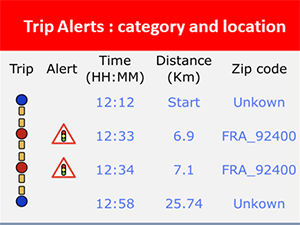 Zip Codes where ALERTS occurred.
Reasons: here, driver was too aggressive approaching traffic lights.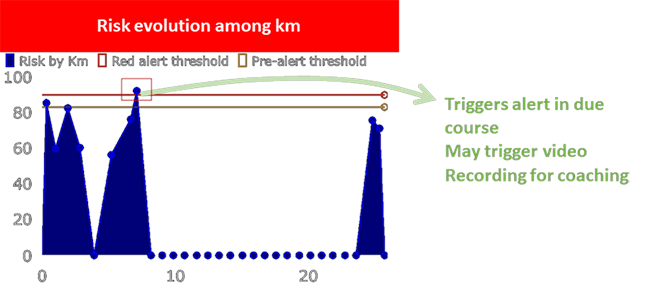 DRIVING RISK is assessed 20 times per second in due course: you can visualize the risk value among pathway.


This sentence is automatically generated by our Artificial Intelligence at the end of every trip to focus attention of
driver on main road safety possible improvements.
DRIVER'S BEHAVIOUR UNDERSTANDING

Our technology "knows" how driver uses to take risk in every kind of situations. It is followed trip after trip (deep learning).
AI analysis can then give us the DRIVING STYLE and DRIVER'S MOOD: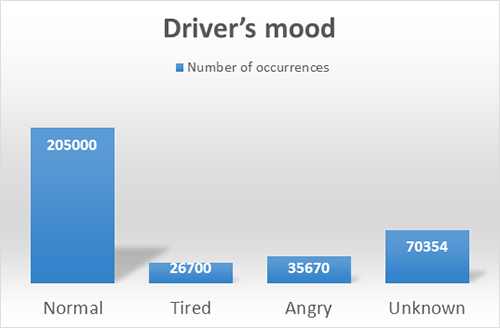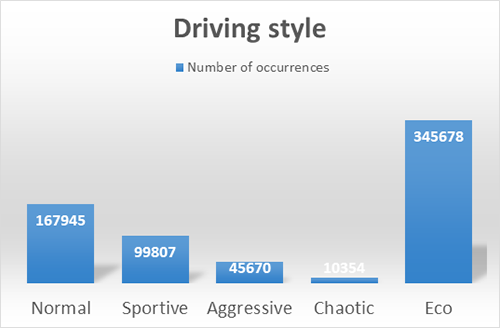 ---
INTEGRATE OUR SOFTWARE COMPONENTS INTO YOUR SOLUTIONS
OR DEPLOY READY-TO-USE SOLUTIONS OF OUR CURRENT INTEGRATORS
Smartphone App
Beacon device
Dashcam
Embedded hardware

Embedded Hardware for railway
Contact us : sales@nexyad.net